About the ICCFA Educational Foundation
The ICCFA Educational Foundation, founded in 2005, seeks to make education accessible to the future leaders of the deathcare profession. It does this by awarding scholarships to the educational programs of the International Cemetery, Cremation and Funeral Association, as well as advancing initiatives designed to promote the profession and support the individuals who answer the call of service. The ICCFA Educational Foundation is a tax-exempt 501(c)(3) charity. You can make a difference by donating to the Educational Foundation using the form linked below.
Donation Form
Educational Scholarships
Education = Opportunity. Opportunity is Knocking: Apply for a Scholarship Today!
The ICCFA Educational Foundation awards many scholarships each year to qualifying ICCFA members so they can attend ICCFA events at no cost. Scholarships are available for the ICCFA's annual sales conference, DEAD Talks, and for ICCFA University. Use the button below to learn more about each scholarship that is available, as well as eligibility.
Learn More About Scholarships
The Lasting Impact Award
The Lasting Impact Awards were created by the ICCFA Educational Foundation to recognize those individuals who have made significant contributions to furthering professional development and lifelong learning in the funeral, cemetery and cremation profession.
Join the ICCFA Educational Foundation as we bestow the 2020 Lasting Impact Award upon Robert Boetticher Sr. in recognition of his 56 years of diverse and unparalleled educational leadership that has significantly contributed to furthering the professional development of the funeral, cemetery, and cremation profession. A reception will be held in conjunction with the 27th Annual National Museum of Funeral History Charity Golf Classic at the National Museum of Funeral History in Houston, TX, on Sunday, November 7th from 4-5pm. Click here to learn more.
Learn More
Journey to Serve
Journey to Serve is a collaborative initiative between the ICCFA Educational Foundation and the Funeral Service Foundation and is designed to help recruit military veterans to open positions within the deathcare profession. Journey to Serve's purpose is twofold: The sweeping initiative equips deathcare and funeral service professionals with free tools and resources specifically designed to connect with military veterans on a local, regional, national, and international scale. At the same time, the initiative—which was funded equally by both organizations and endorsed by the ICCFA and NFDA—positions the funeral service profession as an ideal career path for military veterans to deploy the skills, traits, and talents acquired and earned during their tour of duty.
Journey to Serve Scholarships
As part of this recruitment initiative, twice a year the ICCFA Educational Foundation and the Funeral Service Foundation will award two $5,000 academic scholarships to military veterans pursuing education in funeral service and deathcare. A third scholarship, the Hunter M. Harbeson Memorial Scholarship, will provide $2,500 in academic support to a qualified U.S. veteran. The submission cycles for applications are September 15 – November 1 and February 15 – April 1. Scholarship applications are currently being accepted through November 1, 2021.
If you could ask deathcare professionals for advice, what would it be? Brought to you by the ICCFA Educational Foundation, Honored 2 Share is a fantastic resource where you can learn from deathcare professionals. Categorized by the different types of advice made readily available, you can watch short clips of industry professionals sharing their tips within the profession. Questions include:
• If there was an emotional connection that initially lead you to our profession, would you share it with us?
• What single point of advice would you offer?
•  What is one thing that you wish you would have known prior to starting in this profession?
•  And more!
The ICCFA Educational Foundation recognizes that learning from each other is beneficial to new and seasoned professionals alike, helping us all succeed in this profession. That's why we are proud to present this resource to others, because we are Honored 2 Share.
Thank You Final Responders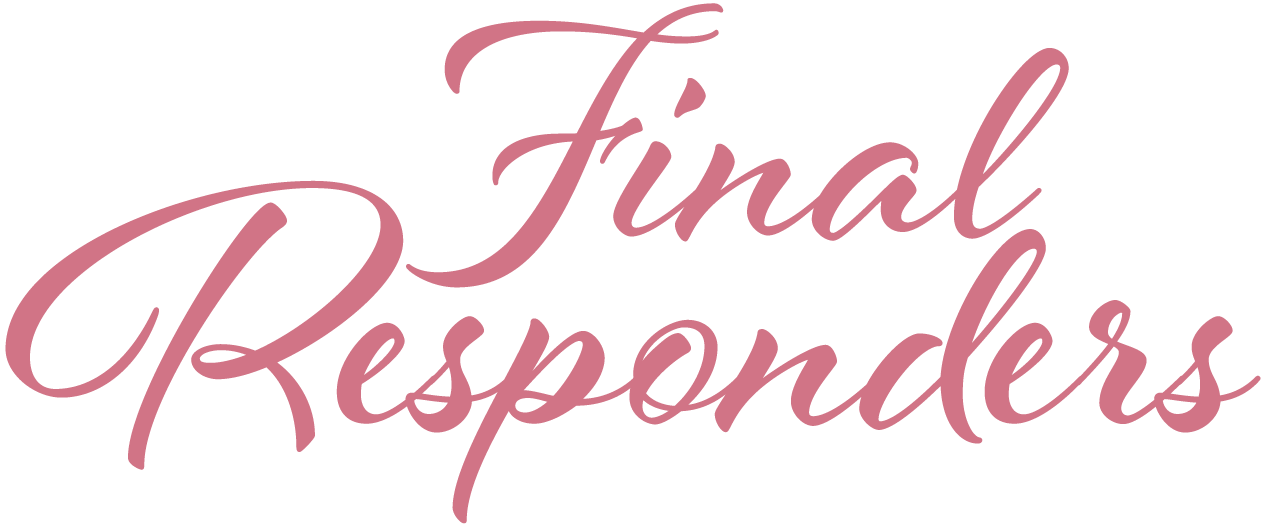 Final responders are funeral professionals who often go unnoticed as they care for our loved ones who have died. They plan funeral ceremonies, cremations, conduct committal services at cemeteries, and comfort us through the darkness when we can't be with our loved ones to say goodbye. The ICCFA Educational Foundation would like to say "thank you" to all final responders.
The ICCFA Educational Foundation presents FinalResponders.org, a website designed to thank our final responders and offer links to grief resources to those in need.
Learn More
The Educational Foundation offers scholarships to pay for the registration fee for sales professionals to attend the DEAD Talks (Formerly Wide World of Sales conference) each year.
The ICCFA Educational Foundation's Scholarship Awards are presented annually to selected recipients to attend the ICCFA University. Applicants must be ICCFA members in good standing and employed in the cemetery, cremation and funeral profession for a minimum of two years.
The Central States Cemetery Association made an endowment to the ICCFA Educational Foundation in 2009 to establish a scholarship award to ICCFA University for applicants from the states of Arkansas, Illinois, Iowa, Kansas, Missouri, Oklahoma and Wisconsin.
Educational Foundation Board
Jim Price
President, Educational Foundation
Park Lawn Corporation – USA
Jill Muenich
Homesteaders Life Company
Bob Boetticher, Sr.
Service Corporation International
Jeff Kidwiler, CCE, CSE
Blackstone Cemetery Development
Mitch Rose
Oahu Cemetery & Crematory
Allen Dave
Allen Dave Funeral Directions
Jack E. Lechner, Jr., CFSP
Cincinnati College of Mortuary Science
Thank you to the following Foundation Donors!
$300,000
Service Corporation International
$75,000
Homesteaders Life Company
Regions Bank
$280,000
The Memorial Classic Golf Tournament *
$60,000
Crescent Memorial
The Roosevelt Investment Group, Inc.
$160,000
Park Lawn Corp.
$100,000

Batesville

Matthews Memorialization

Answering Service for Directors
Michigan Memorial
Gaffney Group
Coldspring
Sich Casket
NorthStar Memorial Group
Trigard/The Darby Family
Cypress Lawn – Kenneth Edward Verner Memorial Scholarship
Live Oak Bank
Robert A. Gordon, Sr.
Ray & Vivian Frew / Green Hills Memorial Park
Jim & Kim Price
Central States Cemetery Association
Western Cemetery Alliance
Rich Fisher Consulting, LLC.
Gables Capital Management
Inglewood Park Cemetery
Merendino Cemetery Care
Jay Dodds & Brad Green / Signature Group
Jake Johnson / Johnson Consulting Group
Blair Nelsen / Nelsen Funeral Homes
Anthony Guerra / Guerra & Guiterrez Mortuaries
Jeff Kidwiler / Blackstone Memorial
Darin Drabing / Forest Lawn
McCleskey Mausoleums
Hillside Memorial Park and Mortuary
Inglewood Memorial Park
NOMIS Publications
Bill Mercer
Mitch Rose / The Woodlawn Cemetery
Fred Lappin / Knollwood Cemetery Corp
Gibraltar Remembrance Services
Celebris Memorial Services
IMSA
Mitch Rose / The Woodlawn Cemetery
Everdays
Jack Wagatsuma
Golivemediagroup.com
Hollingsworth & Brown, LLC