March 22-25, 2022
Mandalay Bay Resort & Casino | Las Vegas, NV
Exhibiting Information
Exhibiting at our Annual Convention & Exposition is a one-of-a-kind experience. With an event that draws from every corner of the deathcare profession, our sprawling exhibit hall is a cornerstone of the convention as our attendees look forward to seeing the latest products and services from suppliers each year. The expansive exhibit hall is your place to shine and you'll be able to connect and network with potential clients and customers from across the globe, many with final purchasing authority. There is a booth type and location for businesses of all sizes.
Are you ready to be a part of the biggest ICCFA event of the year? Scroll down to learn more!
Booth Pricing
| | Member Price | Non-Member Price |
| --- | --- | --- |
| Corner Booth – 10′ x 10′ | $2,400 | $2,900 |
| Non-corner Booth – 10′ x 10′ | $2,100 | $2,700 |
| Non-profit | $800 | |
| Island – 20′ x 20′ or bigger | $2,300 (per 10′ x 10′ space) | |
Want to learn more about exhibiting or purchasing booth space? Contact ICCFA Supplier Relations Manager Rick Platter today!
Exhibit Hall Hours
This year's convention will have 11 non-competitive exhibiting hours to ensure that you will have every buyer's undivided attention. The Expo Hall is located on Baysides E & F at the Mandalay Bay Resort & Casino, 3950 S Las Vegas Blvd.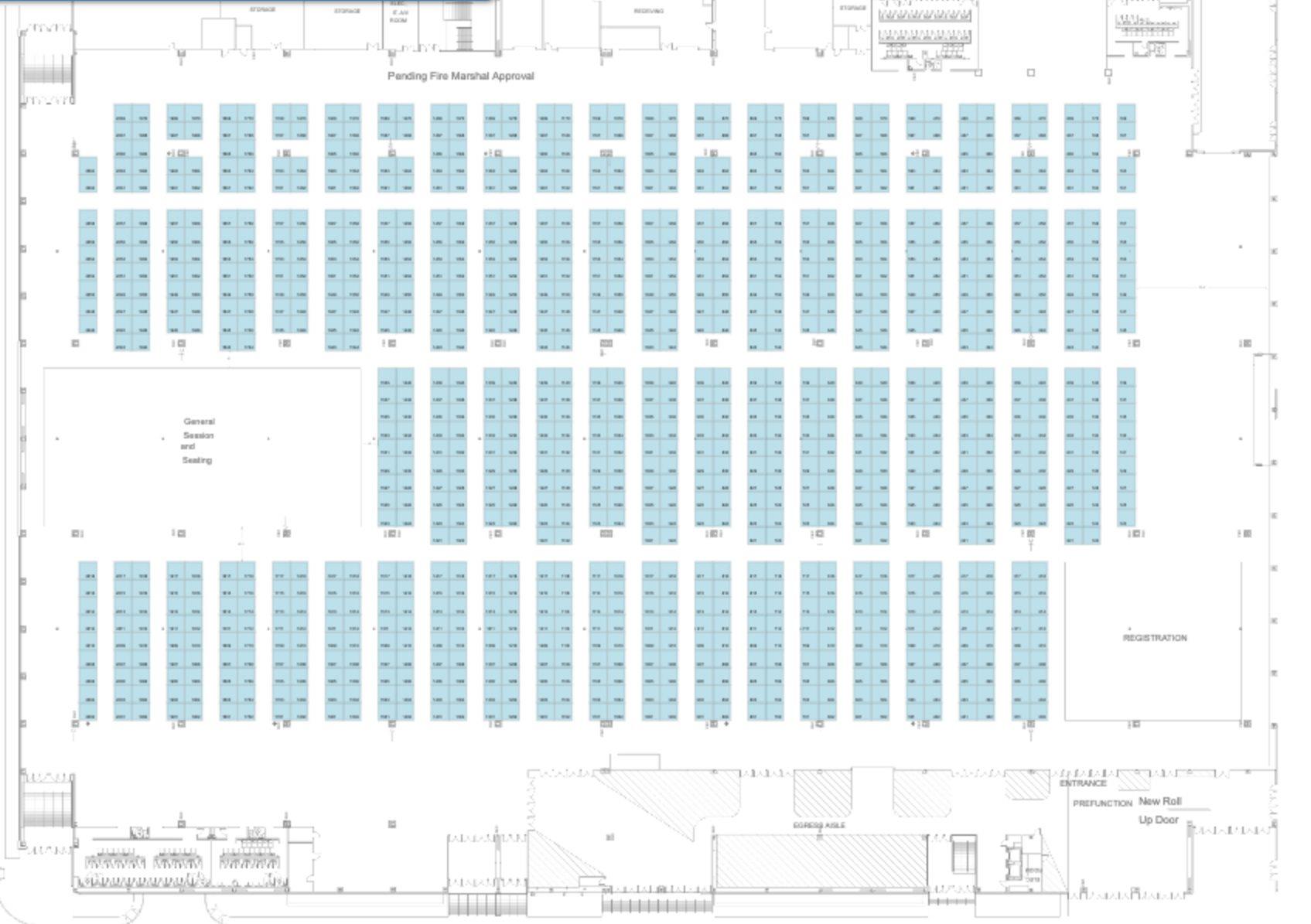 Live Virtual Floor Plan
Want to see the layout of the exhibit hall space or see what booth spaces are available? The Live Virtual Flor Plan is a fantastic resource that allows you to see this in real-time! You can even make sure you aren't near any of your competitors!
When it's time to lock in your booth space with Rick, he will work with you by utilizing this virtual floor plan.
HOTEL ACCOMODATIONS
Hotel Address: Mandalay Bay Resort & Casino
3950 S Las Vegas Blvd., Las Vegas, NV 89119
We strongly encourage all event attendees to make room reservations at our host hotel, The Mandalay Bay Resort & Casino. You will be able to book your room directly through the button below.
BEWARE OF SCAMMERS!
Please be aware of that scammers may try to contact you regarding hotel rooms or attendee lists for the ICCFA Annual Convention & Expo. These companies are not approved by the ICCFA and are scams. For housing, we encourage all attendees and exhibitors to register via the links provided on this page, when they become available. If you have any questions about housing, please contact the ICCFA meetings department at 703-391-8400. The ICCFA does not utilize any outside parties or services for hotels or attendee lists.
Register Your Booth Personnel

All exhibitors receive three complimentary registrations (per 10×10 booth space) for booth personnel. You will be able to register those persons and purchase additional booth personnel registrations using the link below. Once you login, select Upcoming Events on the lefthand side, and then select GROUP Registration.
You can view the video to the left that will walk you through the registration process. Please contact Rick Platter at rplatter@iccfa.com for assistance or for any questions.
Make an Exhibit Hall Announcement!
Get your message across at Annual Convention on the "Voice of God" microphone! This microphone can be heard throughout the Expo Hall, so why not get on the microphone and direct our attendees to visit your booth for meetings, giveaways, and gatherings. Any exhibitor who also sponsors this year's event will be able to partake in this fantastic opportunity. For more details, please contact Kelly Spann at kspann@iccfa.com.
Sponsorship Opportunities
If your organization is interested in showing your support for the ICCFA and the deathcare profession at one of the largest events of the year, consider becoming a sponsor! Thousands of attendees will see your organization's logo and branding, solidifying your place as a leader in deathcare. Our sponsors are recognized in our official publication Memento Mori, on the ICCFA website, on on-site signage and more!
For sponsorship opportunities, contact Meetings Manager Kelly Spann to learn more.