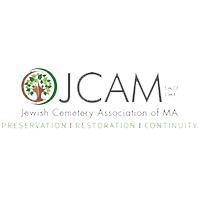 Overview
The Jewish Cemetery Association of Massachusetts is a growing non-profit dedicated to the restoration and preservation of historic property, cemetery maintenance, burial services, and community education. With 125 cemetery properties and counting under its management, JCAM is recognized both nationally and locally for its industry leadership and high standard of community service. An increasingly complex operation, JCAM will soon migrate to cutting edge technologies for preserving archival data, mapping cemeteries, and providing community access to historical records. Our organization's work is rooted in the historic preservation of the the cemeteries we care for but extends to informal education, genealogical research, the
enhancement of public space, and many other applications. JCAM seeks a rising professional passionate about serving the community, bringing history into new light, and advancing an important mission.
Job Summary
The Sales & Special Projects Manager will be cross-trained in and ultimately support a range of JCAM functions including Client Relations, Operations, and Development. The successful candidate will become an expert in the unique facets of many properties, respond to client inquiries, help to promote the organization, and tackle both immediate need-driven and future planning-oriented research projects. This role is based out of JCAM offices in Needham, MA with frequent visits to the field.
Responsibilities
Field Services
Respond to customer inquiries regarding grave purchases, transfers, and assignments
Lead property tours throughout Boston area to prospective customers and partners
Establish system for lead follow-up and conversion
Troubleshoot discrepancies in archived records around lot ownership and transfer
Assist with migration of records and data into cemetery management software
Become an expert on innovations in end of life care (alternatives to burial, green burial etc.) and support management with implementation
Collect images from cemeteries and client testimonials for the purposes of organizational development
Operations
Process requests for services from families and conduct intakes
Share "on call" responsibilities for scheduling burials/funeral services on JCAM cemeteries
Engage caretakers in verifying location of available burial plots
Recognize and report field hazards in clear, timely fashion
Support management team with gathering and allocating service order requests
Qualifications
3-5 years experience in client-facing position; customer service, sales, community engagement BA/BS degree preferred in related field – management, marketing, psychology, social work, etc.
Proficiency in Microsoft Word, Excel, Teams – experience with CRM program (i.e. Salesforce), Canva, Adobe InDesign a plus
Research skills including scanning written and online materials, noticing trends and discrepancies, report writing
Comfort with deciphering maps, giving directions
Ability to tabulate figures for sales documentation
Capable of maintaining composure in sensitive inter-personal situations with clients and the public
Adaptive learner able to grasp new physical or informational landscape quickly and translate to others
Collaborator willing to step in as needed to support team members and projects beyond normal scope of work
Has working vehicle for traveling locally or regionally among JCAM properties
Benefits
JCAM offers competitive salary and benefits package including health insurance, matching contribution to 401K, paid leave and time-off, "comp" time for weekend work as needed. Inclusive, collegial, and collaborative work environment.
Please submit cover letter and salary requirements to jcam-office@jcam.org. More information on compensation available upon request.