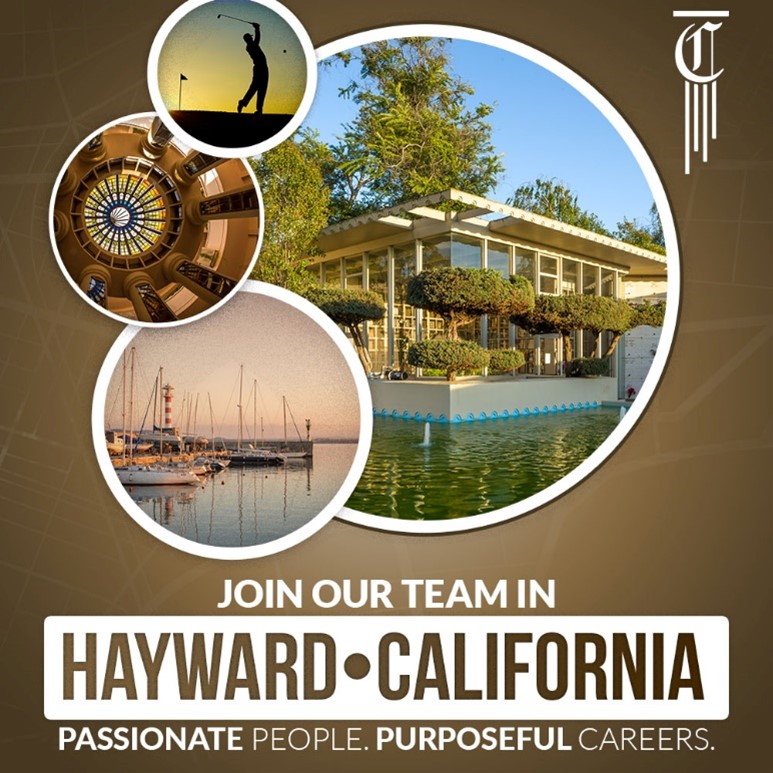 Your dream job awaits you at Chapel of the Chimes Hayward! If you are exhausted of going to work at a job with no opportunity for advancement or are not being paid what you deserve, this opportunity is for you! We are changing the culture of our profession in a positive way and we want you to be a part of it.
Why Work at Chapel of the Chimes:
We are the largest provider in the East Bay and still growing
We serve a diverse community with strong connections to the location
Incredible facility, with many unique offerings and more being developed
Great staff, with 2 other NorthStar locations within 45 minutes
We value collective input from all members of our staff
Why Hayward:
Hayward is known as the Heart of the Bay due to its central proximity to major cities like San Francisco, Oakland, and San Jose
Access to a wide range of entertainment and outdoor activities
Year round temperate climate
2nd most diverse city in California with an urban suburban mix feel
Employment at Chapel of the Chimes Hayward is designed to transcend expectations. We pride ourselves on providing careers that reward your passion for impacting the lives of others with the culture, to change yours.
The Funeral Support Supervisor will be providing a source of support, guidance, and direction to Staff Associates as they care for families before, during and after the loss of a loved one. The Funeral Support Supervisor is responsible for aiding location management by assisting in tasks as needed to ensure clients and guests are satisfied with their funeral or memorial services.
Responsibilities:
Reasonable accommodations may be made to enable individuals with disabilities to perform the essential functions.
Conducts regular training with Staff Associates
Inspects work produced by Staff Associates
Responds to questions and issues from Staff Associations
Works with all departments to schedule services in an organized and orderly fashion
Monitors daily service and staffing schedules to ensure proper coverage
Contacts Staff Associates to schedule work shifts
Works closely with Chapel Location Manager to develop goals, ensure compliance and promote exceptional customer service
Monitors and coordinates upkeep and cleanliness of company vehicles
Responds to overtime and time-off requests from Staff Associates
Monitors and approves weekly timecards from Staff Associates
Responds to customer issues
Establishes and maintains strong business relationships with families
Maintains reverence and respect for the deceased at all times
Assists funeral directors with events held on site, including services and arrangement conferences
Assist in preparing the memorial area for the family before the services start
Make copies of memorial programs
Ensures that flowers and other memorabilia are returned to the family after services
Answers customer inquiries in a professional manner, either by phone or in person
Calls customers to ensure that arrangements are correct
Helps in the maintaining the facilities, not including preparation areas
May be required to carry out funeral services from viewing of the deceased to final disposition as required/necessary based on location needs
May be required to drive company vehicles or hearses from time to time
Direct traffic for services based on location needs
Orders and maintains inventory of funeral service supplies
Receives and organizes service materials
Other duties and responsibilities as assigned by Manager
Qualifications:
High level of compassion and integrity
Must have high ethical standards
Ability to handle difficult situations
Highly organized with the ability to encourage organization in others
Ability to work in a fast paced environment
Passionate about serving the community
Desire to grow within a team environment and create a lasting legacy of excellence
Share ideas with like-minded individuals for the benefit of the families we serve
Minimum Requirements & Experience:
High School Diploma
Valid driver's license and satisfactory driving record.
Preferred Education & Experience:
1+ years of experience in Funeral profession/industry
1+ years of experience in customer service or administrative role
Apply today to hear more about the amazing opportunities that await for you at Chapel of the Chimes Hayward. To be considered for this opportunity, click the Apply Now link on this page, or confidentially email your resume to nsmgrecruiting@nsmg.com. Please include the title of this job along with the location name for which you are applying in your email. We can't wait to speak with you about the incredible reasons why you'll love it here!