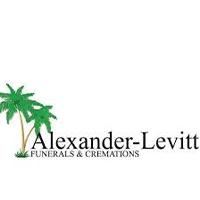 Your dream job awaits you at Alexander-Levitt! If you are exhausted of going to work at a job with no opportunity for advancement or are not being paid what you deserve, this opportunity is for you! Voted one of 2022's Top Workplaces, we are changing the culture of our profession in a positive way and we want you to be a part of it.
Benefits of Working at Alexander-Levitt Funeral & Cremations:
For over 80 years, we have served the community with dedication and compassion. We are committed to serving all faiths and nationalities. Our devoted staff strives to honor your loved one's memory with more than just a funeral or burial arrangement. Rather, a celebration of a life well lived. Our facilities are equipped with Celebration of Life event rooms to create a unique and personalized memorialization of your loved one, including a variety of catering options and musical accompaniments.
We understand the process and decisions involved in making funeral and cemetery arrangements while coping with the loss of a family member can be stressful and confusing.
We are a dynamic privately-owned funeral company offering multiple opportunities for growth.
We offer competitive pay, 401K, Health/Dental insurance, paid vacations, and a positive environment.
We strive to maintain a schedule that allows work/life balanced.
Why Tamarac, FL?
Located in Broward County, in central Florida.
Amazing beaches and oceans of Sarasota and Bradenton Beach
Here at Alexander-Levitt we strive for work and life: balanced. Ideas and innovation: invited. Employment here is designed to transcend expectations. We pride ourselves on providing careers that reward your passion for impacting the lives of others with the culture, to change yours.
Responsibilities
As a Funeral Director at Alexander-Levitt you'll be responsible for providing a source of support, guidance, and direction to families before, during, and after the loss of a loved one.
Qualifications
Qualified candidates must be a Licensed Funeral Director in Florida (or possess the ability to reciprocate), have excellent communication skills and integrity, and an innate passion for serving others.
Apply today to hear more about the amazing opportunities that await for you at Alexander – Levitt Funeral Home. To be considered for this opportunity, click the Apply Now link on this page, or email your resume to elisabeth.gonzalez@nsmg.com. Please include the title of this job along with the location name for which you are applying in your email. We can't wait to speak with you about the incredible reasons why you'll love it here!
Want to stay informed about new job opportunities at NorthStar? Join our Talent Network & receive alerts with new job opportunities that match your interests!
We are an equal opportunity employer. All qualified applicants will receive consideration for employment without regard to race, color, religion, sex, sexual orientation, gender, gender identity, national origin, disability or veteran status.