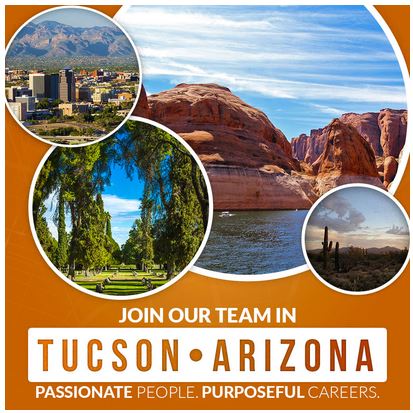 Your dream job awaits you at Evergreen Mortuary! If you are exhausted of going to work at a job with no opportunity for advancement or are not being paid what you deserve, this opportunity is for you! Voted one of 2022's Top Workplaces, we are changing the culture of our profession in a positive way and we want you to be a part of it.
Why Work at Evergreen:
Our team is one of the best in the profession – we offer a friendly and supportive work environment
We offer competitive salaries and benefits
We take pride in our beautiful location
We are part of a national brand which provides great opportunity for growth
Why Tucson:
Tucson's central city core includes a vibrant downtown area, the lively Fourth Avenue, and the University of Arizona
Tucson chefs creatively and boldly fuse the region's cultural food influences, helping the city earn the United State's first UNESCO City of Gastronomy designation
There are more than 350 days of sunshine in Tucson annually, so plenty of days to enjoy a wealth of activities this outdoor playground offers like golfing, hiking, biking, and horseback riding
Employment at Evergreen Mortuary is designed to transcend expectations. We pride ourselves on providing careers that reward your passion for impacting the lives of others with the culture, to change yours.
We are seeking a Funeral Director/Embalmer for Evergreen Mortuary. This position is responsible for providing assistance to location management by assisting in tasks as needed to ensure clients and guests are satisfied with their memorial services. The successful candidate will have strong planning, organizational and time management skills
Responsibilities:
As a Funeral Director/Embalmer at Evergreen Mortuary, you'll be responsible for providing a source of support, guidance, and direction to families before, during, and after the loss of a loved one.
Qualifications:
Qualified candidates must be a Licensed Funeral Director/Embalmer in Arizona or possess the ability to reciprocate, have excellent communication skills, integrity, and an innate passion for serving others.
Want to stay informed about new job opportunities at NorthStar? Join our Talent Network & receive alerts with new job opportunities that match your interests!
We are an equal opportunity employer. All qualified applicants will receive consideration for employment without regard to race, color, religion, sex, sexual orientation, gender, gender identity, national origin, disability or veteran status.