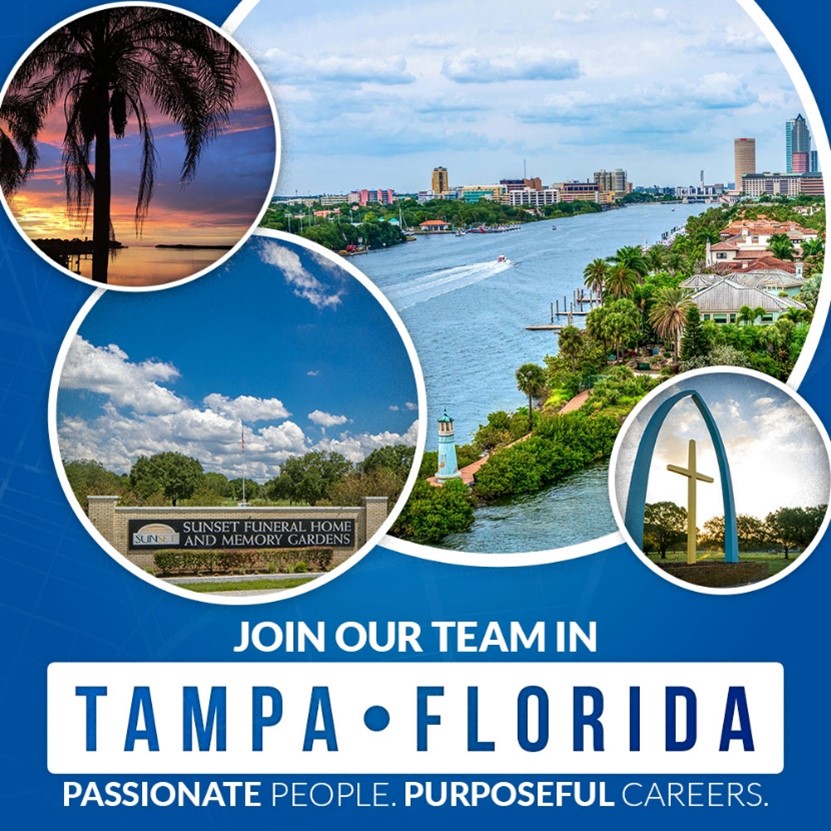 Your dream job awaits you at Boza and Roel Funeral Home! If you are exhausted of going to work at a job with no opportunity for advancement or are not being paid what you deserve, this opportunity is for you! Voted one of 2022's Top Workplaces, we are changing the culture of our profession in a positive way and we want you to be a part of it.
Benefits of Working at Boza and Roel Funeral Home:
· We are the preferred provider in our community. Passion is what drives us to treat every family we serve as if they were our own, & that includes our Boza and Roel family.
· We are a dynamic privately-owned funeral company offering multiple opportunities for growth.
· We are putting safety first! We continue to meet and exceed all CDC mandated safeguards for the safety and health of our team.
· We strive to maintain a schedule that allows work/life balanced.
· We have a rich history serving the Latin and Anglo community of Tampa
Why Tampa, FL:
· Fun for all ages with great parks, museums, art and entertainment
· No state income tax
· Amazing weather, with an average high of 74 degrees in the winter
· Great economy – home to the 7th largest port in the US
Here at Boza and Roel Funeral Home we strive for work and life: balanced. Ideas and innovation: invited. Employment here is designed to transcend expectations. We pride ourselves on providing careers that reward your passion for impacting the lives of others with the culture, to change yours.
We are seeking a Funeral Director/Embalmer for Boza & Roel Funeral Home in Tampa, FL.
Responsibilities
This position manages all phases of the funeral arrangement including the removal of the deceased, selecting and setting up funeral services to final disposition, as well as, embalming, removals and transfers, cosmetology, dressing, hairstyling and any other preparation required for the deceased. The successful candidate will have strong planning, organizational and time management skills and a current license in the applicable state.
Qualifications
Qualified candidates must be a Licensed Funeral Director/Embalmer in Florida (or possess the ability to reciprocate), have excellent communication skills and integrity, and an innate passion for serving others.
Want to stay informed about new job opportunities at NorthStar? Join our Talent Network & receive alerts with new job opportunities that match your interests!
We are an equal opportunity employer. All qualified applicants will receive consideration for employment without regard to race, color, religion, sex, sexual orientation, gender, gender identity, national origin, disability or veteran status.